REINING TRAINING, LESSONS
AND WESTERN SHOWING.​
" Where Reining Horses Reign. "
##### OCTOBER NEWS..... 2012 #####

GENNI BUTTS TIES FOR HIGH POINT YOUTH..
On October 13th 2012 Kiwi Performance horses trainer Lilly King, and her students headed off t​o Pasadena to compete in their Hi Point Buckle Open Show.
​Christy Mullen took her paint gelding, Doug, & Genni Butts loaded her paint mare, Jubi .
​The show was well attended, with up to 15 horses in some of the Pleasure classes.
The highlight of the day for all the kids was the costume class where the Jolly Green Monster won, with​ Pegasus close behind. There were probably 10 competing. They looked so awesome.
Christy and Doug went to just do some Western classes and placed in all theirs and they really did look very good.
Genni and Jubi went for the Buckle, and won theShowmanship and the Trail and were second in almost all of their other classes. Well done Genni.
At the days end she tied with Jaylynn and after a ​​​​tie breaker
​Genni came home with the Hi Point Reserve Buckle.
We are so very proud of our riders and we could not have asked
​them to have shown much better than they did.​ In all an
​awesome day at Pasadena. But the main thing was that
​ we had the time of our lives.
​We really missed Moira Mathews and her horse Sonny being
​with us, as she had worked so very hard to get ready for the Hunter classes, but last minute was unable to attend the show with us due to ill health
​
CONGRATULATIONS to you all.​




Always strive to be the
​ BEST
​ but take the disappointments with your head held high and as the stepping stones to perfecting yourself and your horse as
​ YOU
​ sometimes have to lose to become the
​ BEST
in the end.



Had a pretty exciting day yesterday. Headed out to the Pasadena Show (first show without my mom and dad too) and ended up tying for High-point but received Reserve after the tie-breaker. Either way I'm extremely happy with Jubi's performance; she's really turned into a dream within the past year; I honestly think this was probably my best show with her. Have to say thanks to such an awesome trainer who's willing to put up with me all day at a show (and let me ride back in the truck) (;, Thanks Lilian King, you're simply the best.
​

Genni Butts and " Lenas Easter Jubilee"
#### NOVEMBER NEWS ####

On November 3 rd, 2012 we are headed to Tulsa to attend the " Pinto Colour Congress " with " Lena's easter Jubilee" and Genni Butts. We wish her the best of luck and wish them a safe trip to and from the show. This duo have been working extremely hard for this major show, and as it happens will be their first Major Show which they will have attended to date.
No matter how they place everyone here at Kiwi Performance Horses, and Cherry Creek Arena will always think that they are WINNERS in our eyes.

Results and pictures as they are reported.
​​
Lilly is taking the Futurity Reiner with them so she can keep riding him while coaching Genni at the show.​
Good luck and God Speed to Lilly and Genni on their trip.
​​​​


Color ALL Breed Congress.
Tulsa. OK. 2012.

UPDATES POSTED BELOW.
##### NEWS FLASH #####


Genni Butts and her horse " Lena's Easter Jubilee " won the Colour Champion Jacket and the gold medal for Youth Color Halter today, Nove 6 th after gaining a 7 th over all in the Halter Mare class.

CONGRATULATIONS !!!!.

#### NEWS FLASH #####

Genni Butts gained a 5 th placing in the Top Ten in NY Horsemanship, out of 20 horses.
Also was in the Top Ten NY Trail gaining a 6 th place overall. With 14 horses competing against her and " Lenas Easter Jubilee ".

We here at Kiwi Perfomance Horses are very proud of them for doing such an awesome job showing in very tough competition all week.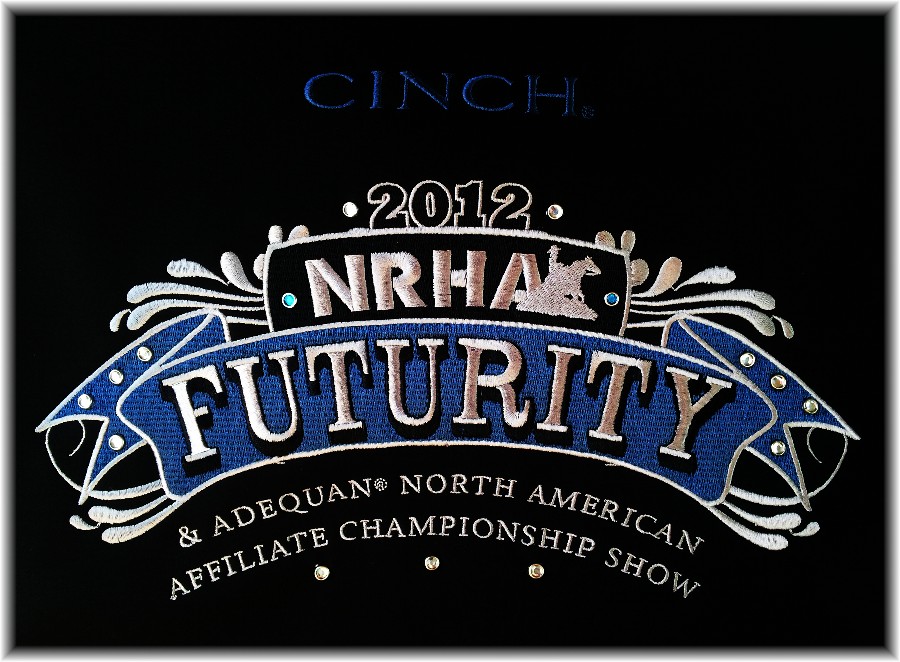 On the 19th Nove/ Dec2, We headed to the 2012 NRHA Futurity show with " Whiz Kid Quixote " and competed with 470 other Horses for a prize of $250,000.00.
It was a dream of a life time come true and although we did not make the finals " Whiz " was awesome and we had a lot of interest in Kiwi Performance Horses.
We would like to take this time to thank the owners of "Whiz " Performance Quarter Horses for the opportunity to train and show such a wonderful horse.
Thanks to this trip we have another futurity 2yr old coming for 2013.

Happy Holidays, Merry Christmas and Happy New Year everyone.


N

I

******** NEWS FLASH *********
​
​ ​​ Hannah Duncan riding " Lena's Easter Jubilee"​​


WON




Hi Point 12 and Under Walk Trot


at Katy, TX ​​​. on
​Sunday 16th 2012


CONGRATULATIONS.

​
We are all so pround of her and " Jubi".​
Moria Mathews WON Western Horsemanship on " Bendaras Golden Sonny D."
​
Lauren Todd​

WON

English Hunter under saddle W/T riding " Heavenly Flower ".
16th, Dec, 2012 . at Katy. TX.

" CONGRATULATIONS.​​"
​​